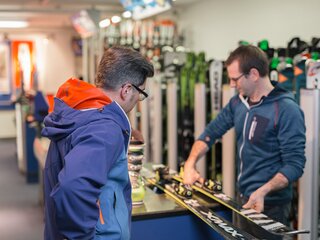 Equipement
Top material in ski rental!
We have the right skis for you!
Find the Perfect Fit:
SUPERIOR – for ambitious and pro-level skiers
PREMIUM – for novices and athletic types
ECONOMY – for the budget-conscious
Whichever category you choose – all of our skis are distinguished by high-quality materials and appealing designs.
Our 'RENTertainers' are more than happy to advice you on the best option for your needs. Don't hesitate to ask – we are passionate skiers with a wealth of personal experience and expertise.
Whether you are a complete novice or pro-level skier: if you enjoy having your pick of each season's newest models, INTERSPORT Rent is the place for you
Price per day for 7 days rental
Brand skis
from this season
Get your equipment on the day before
after 4 p.m.
Kids up to 10 years for free
if both parents rent
Free ski-model exchange
within the rental class
Free exchange
betwenn skis and snowbard
Free daily service
for your rental equipment
State of the art technology