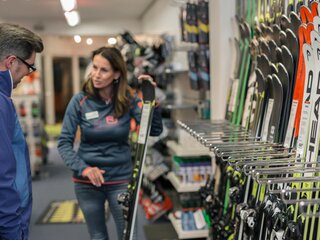 Hardware range
Top selection and advice
At Home in the Mountains
Functional Clothing & Equipment for Your Outdoor Adventure
We are Heiligenblut's one-stop destination for expert advice and high-quality outdoor gear.
Our product range encompasses the areas of mountaineering, outdoor sports, ski touring and alpine skiing. At INTERSPORT Grossglockner you'll find everything you need to make the most of our high-alpine environment, including stylish accessories for men and women.
Check out our product range: whether you are looking for walking or hiking boots, climbing gear, trekking poles, running shoes, backpacks, framed snowshoes, or skiing equipment – we've got everything you need for your workout or high-alpine adventure.
To make sure your kids enjoy their time on the piste, our children's range includes everything from trendy ski helmets to the latest carving skis.
As sporting goods retailers, quality and safety are our primary concern. That's why we offer products by these trusted, well-established brands: