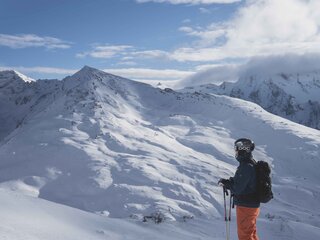 Region
around the grossglockner
Unterkunft - Hotel
Nationalpark Lodge Grossglockner
Du bist auf der Suche nach einem Hotel?
Die Nationalpark Lodge Grossglockner liegt mitten im Bergdorf Heiligenblut und sorgt mit den Schwerpunkten WILDIS, WELLNESS & WOHLFÜHLEN für einen gelungen Urlaub und einer Wohlfühlatmosphäre, die zum Entspannen und Träumen von der Wildnis draußen einlädt.
Heiligenblut 
…at the Foot of the Grossglockner
The picture-postcard view of Heiligenblut's St. Vincent Church is famous the world over, and remains a truly stunning sight. Life in our West-Carinthian village has always been shaped by tradition, hard work and, of course, a close connection with nature. The place and its people are unique – as is the landscape that surrounds us. On the one hand, there are the signs of high-alpine agriculture: steep pastures, mountain huts and centuries-old farmhouses; on the other, there is the wild and untamed beauty of the Hohe Tauern National Park, with its countless 3000-metre peaks, mountain lakes and idyllic secret spots. In this environment, you are simply yourself. Deceleration isn't an artificial concept aimed at tourists, but an authentic everyday reality.
Grossglockner
Austria's Highest Mountain
It is the undisputed symbol of Austrian mountaineering dreams: the Grossglockner. The tour to its 3,798-metre summit is not just long and high, but also technically challenging – and therefore reserved for those with a good level of experience and skill. We strongly recommend hiring one of our highly trained local mountain guides.
Ski area
Skiing in breathtaking scenery
Even on the slopes, the 3,798-metre-high Grossglockner is part of the stunning view. Heiligenblut's ski area is vast and diverse, with modern lift facilities making every option easily accessible. Whether you prefer groomed slopes, or off-piste runs: Heiligenblut will make your heart beat faster.
Heiligenblut has been a winter-sports paradise ever since the 1960s. What sets us apart from other ski resorts is that our focus is not limited to state-of-the art facilities: we are also driven by a genuine desire to get close to nature. We love the wild and live by the motto, "Go to heaven – ski like hell!"
55 kilometres of piste, all levels of difficulty
12 modern, comfortable lift facilities
4 ski routes and 1,500 hectares of freeride arena, divided into 6 freeride sectors
Freeride Checkpoint at the Rossbach cableway station
The Hohe Tauern National Park
The Hohe Tauern National Park is the largest nature conservation area in the Eastern Alps, and spans across the Austrian counties of Carinthia, Salzburg and Tyrol. With its area of 1,856 km² (divided into a strictly protected core zone, and a peripheral buffer zone), it is among Austria's last large-scale natural landscapes.
The untouched areas of the Hohe Tauern National Park provide a natural habitat for Alpine animals such as chamois and ibex, marmots, snow hares and golden eagles. The landscape is a visually dramatic blend of rock and glacial areas, impressive waterfalls, wild valleys and alpine pastures. We go Into the Wild – it's part of who we are.
The Grossglockner High-Alpine Road
48 kilometres of unmatched views
Since 1935, the Grossglockner High-Alpine Road has connected Fusch-Ferleiten (in the county of Salzburg) with Heiligenblut (Carinthia). With over 36 hairpin bends, the pass road takes you deep into the heart of the Hohe Tauern National Park. Be sure to stop off at the Kaiser-Franz-Josefs Höhe (on the Carinthian side of the pass) to get a close-up, direct view of the Grossglockner.
All along the Grossglockner High-Alpine Road are opportunities for short walks, as well as starting points for extensive hikes. The route is also lined with multiple museums, information points and educational trails. In addition, four themed playgrounds offer a perfect chance for younger visitors to learn about the construction of this unique road, and the natural high-alpine world.