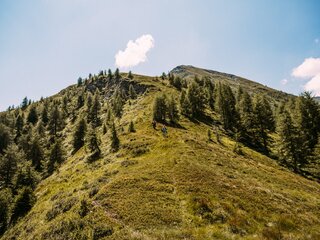 Summer sports
Experience diversity in Heiligenblut
The Legendary Grossglockner
Austria's highest mountain has captured the imagination of alpinists the world over. Do you dream of standing atop the Grossglockner's 3,798-metre peak? Maybe this is the perfect time to make it a reality. The summit tour from Heiligenblut is long, challenging and steep, with an altitude difference of 1,800 metres. But with the expert guidance of a local mountain guide, you'll safely reach the gilded summit cross at the end of your two-day tour.
Hiking & More
Endless Possibilities: Summer in the Grossglockner Region
Step right into nature – in the largest nature conservation area in the Alps. Be sure to stop and enjoy the breathtaking views of the Hohe Tauern, as you explore the area on our vast network of hiking trails.
These are our TOP 5 PICKS of hiking routes near Heiligenblut am Grossglockner:
1. Gamsgrubenweg - Face-to-Face with the Grossglockner
2. Gletscherweg Pasterze - Close to the Eternal Ice
3. Geotrail Tauernfenster - Hiking Above the Clouds
4. Natural Hazards Educational Trail Heiligenblut - starts at Schareck cable way station
5. Trail "Natura Mystica" - Exploring the Mysteries of the Hohen Tauern
The Möll Gorge
The Möllschlucht Trail takes you through a stunning gorge that has been hollowed out by the Möll River. Located just outside Heiligenblut, this amazing via ferrata at the foot of the Grossglockner features a 420-metre-long, fixed steel rope that runs through the entire gorge. The suspension bridges are much longer than you'd usually expect on this type of trail. With its combination of turquoise rock pools, small waterfalls and dramatic rock-faces, the Möllschlucht Trail makes for an extraordinary hiking experience.
After your efforts, the Sonnblick Inn awaits with delicious refreshment – along with glorious views of Heiligenblut's famous church and, on a clear day, the majestic Grossglockner itself.
Adventure Park
The climbing park at the Sonnblick Inn is a perfect day-out for the whole family. Put your courage (and vertigo) to the test on the high rope course, find different ways to the top of the climbing wall, enjoy the thrills of the zip line or simply have fun on the coordination & playground equipment.