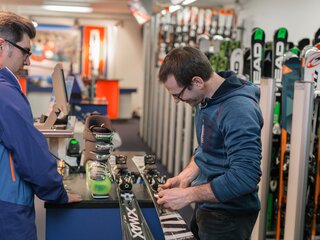 Staff & Jobs
Work at INTERSPORT Grossglockner
Hans Pichler Ltd & Co KG is a family business with an over 100-year-long history. Today, the Heiligenblut-based company is run by fourth-generation members of the Pichler family, and serves as one of the region's largest employers in the fields of tourism and retail.
To expand our team, we look for people who :
are friendly, honest and competent,
who take pride in maintaining a presentable appearance,
are open-minded with regards to change and innovation (be it in terms of customer care or operational efficiency),
who manage products and services in a well-organised and systematic manner,
are invested in the continuous evolution of our businesses and in-house teams,
are keen to keep learning and willing to embrace change,
and have a respectful attitude towards all customers, guests, suppliers, fellow employees, as well as our natural and workplace resources.
We are always looking for bright, outgoing and creative individuals to join our team.
If you enjoy working with people, are personable and attentive, take pride in a tidy appearance and good manners, and are a team player with the ability to look after our international clientele, we would love to hear from you!
You are outgoing and enjoy dealing with people. You are a team player and take care of our international audience together with your colleagues.
Your area of responsibility:
Sales advice to our customers in the areas of mountain sports, outdoor and hiking as well as casual leisure fashion for men and women.
Cash desk activities
We offer you a varied workplace in a stable family business, opportunities for training and further education as well as attractive employee discounts. If required, we are happy to provide a room in our employee house.
Remuneration according to the collective agreement for retail - minimum € 1.637,- per month with readiness for additional payment depending on professional experience and qualification. Employment: Full-time (5.5 days a week) and part-time possible (from 20 hours/week).
We look forward to receiving your application and getting to know you better in a personal interview.
Please contact:
Hans Pichler Gesmbh & Co KG
zH Frau Verena Janda
Hof 6, 9844 Heiligenblut
+43 (0)4824 2244-154
verena.janda@pichlers.at