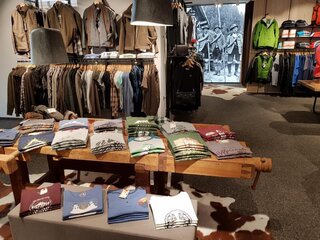 Textile range
Well equipped in any weather
At Home in the Mountains
Functional & Stylish Sporting Goods for Your Outdoor Adventure
We are Heiligenblut's one-stop destination for expert advice and high-quality gear for alpine & outdoor adventures. Our product range encompasses the areas of hiking, climbing, outdoor and winter sports - including ski touring and alpine skiing equipment.
At INTERSPORT Grossglockner you'll find everything you need to make the most of our high-alpine environment. We also offer stylish accessories & leisurewear for women and men.
Check out our product range: whether you're looking for a ski jacket, hiking trousers, temperature-regulating shirts or warm hats & headbands – we've got everything you might need for your workout or excursion. Think fashionable colours, playful designs, and high-quality materials.
We also have a fantastic range of children's wear that will turn any kid into an outdoor enthusiast. At INTERSPORT Grossglockner you'll find a great selection of jumpers, jackets and shoes for budding alpinists of all ages.
As outdoor goods retailers, quality and safety are our primary concern, which is why we offer products by these trusted, well-established brands: